Our Program
One-on-one instruction, 4 hours a day
Room and board, for 6 day a week
Socially engaged lectures and day trips
Access to a library with 1,000+ books
Volunteer opportunities
Classes are taught under palm-thatched ranchitos on the grounds, 4 hours a day, Monday through Friday. Our Guatemalan teachers are trained and experienced. Their interests and backgrounds are varied but all of our teachers share a common commitment to social justice, sustainable development and peace in Guatemala. They will begin your week of studies with an oral and written evaluation and develop a study plan according to your level of Spanish. Teachers can adapt classes to your special needs and can use materials that you choose to bring to class. You have access to textbooks, dictionaries and literature from the school library.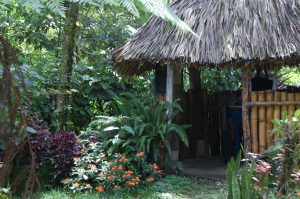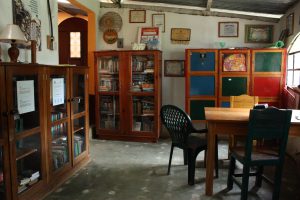 Activities
The schedule includes a variety of activities that draw upon the the social reality of rural Guatemala. Most weeks we'll schedule at least 2 speakers (in Spanish with English translation) on a range of social, political and cultural topics. We visit rural communities and meet with ex-guerrillas or local organizations.  There is a weekly cooking class on Guatemalan dishes, Saturdays are the art and music classes for local children, the communities hold celebrations throughout the year, and you can hike to a waterfall or volcanic lake.  And of course, you'll have plenty of class assignments to work on.
Spanish Conversations
None of the families hosting students for meals speak English. You will be practicing your Spanish in conversation at meal times three times a day and at other times during the day and evening. Students can chat in Spanish with the teachers and staff before class and during break times, and with our Guatemalan (non teaching) staff during the day and in the evenings.  Hanging out with the kids in the streets is a great way to practice, they are not shy about correcting you.