Students and some staff stay in the main school building, which has three bathrooms and two hot showers, indoor and outdoor study areas, a small indoor library with over 1,000 books for students and staff including books for Spanish learning along with an excellent selection of books in English and in Spanish (ranging from Latin American history & literature to books about permaculture, feminism, world history and many other great titles).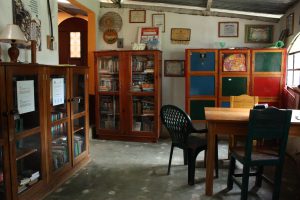 We also have titles in several other languages including German, French, Danish, Swedish and Norwegian. In the garden we have a larger community library with books in Spanish for local people, staff and students to use. We also have a communal kitchen for students' and staff use.
Evenings at the school are often spent taking part in our fun and interesting evening activities which help you to practice your Spanish. Also students spend many a fun and productive evening studying and socializing with other students and staff or reading and relaxing.
The Escuela de la Montaña is easily accessible, just two hours by bus from Quetzaltenango, and only a short walk off the main road. Detailed travel information is available here. Internet access is available at the school or in a nearby community just five minutes walk away. If you have a Guatemalan mobile phone, reception is available on the Tigo or Claro networks but there is no reception for Movistar.
The school itself occupies two and a half acres of what was once a small coffee finca (farm) and the main school building was the owner's modest residence. The grounds include a beautiful lush garden with many flowers and other plants and trees including banana, avocado, and lime trees; a steep ravine planted with coffee trees; a small organic herb garden with medicinal plants; a fish pond (carp and tilapia), a fertilizer-producing latrine, a small (5-a-side) football pitch, and a mirador (pictured below) where you can see the many different kinds of birds (including hummingbirds) who visit our gardens.